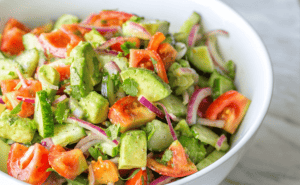 For many of our international guests to Thornybush, South African may seem to be in a state of eternal summer when compared to the chilly climate of home, no matter what the season. That means refreshing light lunches are the order of the day even in the middle of winter around these parts.
Now, you too can get a taste of the summertime with this delicious chicken and salad dish, from Chapungu Tented Camp.
Ingredients – Lemon Garlic Chicken
4 Boneless, skinless chicken breasts
1 cup Chicken broth
2 T Lemon juice
½ t Red pepper flakes
1 T Olive oil
1 Whole garlic clove, crushed
1/3 cup Shallots, finely diced
2 T Salted butter
¼ cup Heavy cream
2 T Parsley or Basil, chopped
Salt and pepper to taste
Method:
Place a rack in the lower third of the oven.
Preheat the oven to 375 degrees F.
Using a mallet, pound each chicken breast until it's about a 1/2 inch thick.
Sprinkle a pinch of salt and pepper on both sides of the chicken.
Combine the chicken broth, lemon juice, garlic, and red pepper flakes in a small bowl.
Heat the olive oil in a large oven-safe skillet over medium high heat. Brown the chicken for 2 to 3 minutes on each side. Remove the chicken from the skillet.
Reduce the heat to medium, then add the shallots and chicken broth mixture to the skillet.
Scrape the bottom of the pan with a whisk to loosen all the browned bits.
Increase the heat to medium high and bring the sauce to a simmer.
Allow the sauce to simmer until it's reduced by half.
Add the butter and cream and stir until it starts to thicken.
Place the chicken back in the sauce and place it in the oven until the sauce is thick and creamy.
Garnish the chicken with parsley or basil and serve it with a sweet potato and the cucumber salad or garden fresh roasted vegetables.
Ingredients – Cucumber, Tomato, Avocado Salad
500g Roma tomatoes
1 Whole English cucumber
½ Avocado
1 Onion
2 T Olive oil
1 t Sea salt
1/8 t Black pepper
Method:
Chop the tomatoes, dice the avocado and slice the cucumber and red onion.
Place all the vegetables into a serving bowl, drizzle with olive oil and sprinkle the salt and pepper on top.
Serve with the garlic lemon chicken.
For maximum enjoyment, add a fine glass of white wine to the mix, followed by an afternoon game drive at Thornybush Game Reserve. Get in touch and we'll arrange it all for you.