Everyone has their favourite mid-week stir fry recipe because, well….. let's face it, throwing veg and noodles into a pan and adding some sauce is a quick and easy dinner option. However, some stir fry's offer a whole lot more, but that does not necessarily mean they are tricker to produce.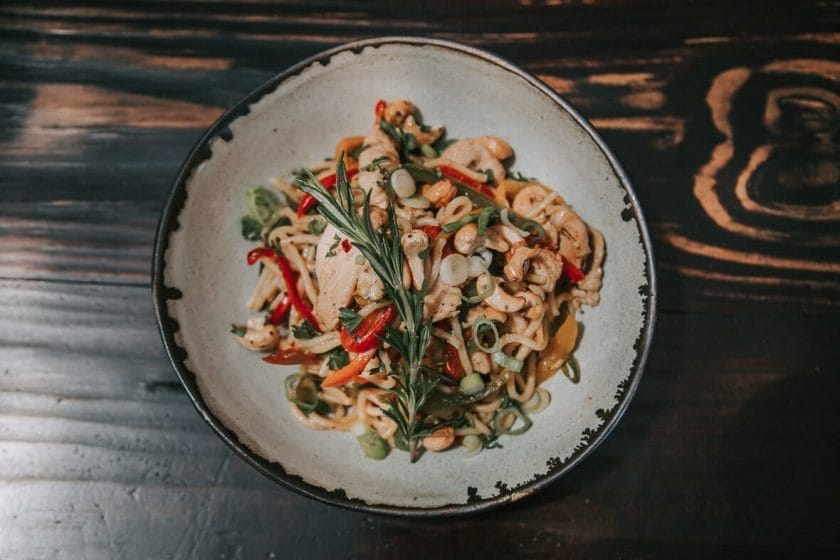 We are not claiming this to be an authentic Thai dish, but it is a delicious, foolproof chicken stir fry. Infused with zingy ginger, topped with caramelised cashews and combined with loads of colourful vegetables it has become one of the most loved dishes at Saseka Tented Camp. So, either replace your usual go-to recipe or add this to your repertoire. Either way, you will be seriously glad you did.
INGREDIENTS
serves 10
100 ml canola oil
1 kg chicken breasts, cut into strips
2 red peppers, thinly sliced
2 yellow peppers, thinly sliced
1 green pepper, thinly sliced
2 garlic cloves, peeled and crushed
50 g ginger, beeld and grated
100 ml soya sauce
50 ml sweet chilli sauce
50 ml fish sauce
10 ml Worcester sauce
1 tsp vegetable stock powder
salt and pepper to taste
500 g noodles, cooked according to instructions
handful chopped parsley or coriander
handful chopped spring onions
100 g cashew nuts, tossed in maple syrup
METHOD
Heat 50ml of the oil in a pan and stir fry the chicken breasts until cooked through. Remove from the heat and set aside.
In a large pan heat the remaining oil and fry the peppers, garlic and ginger, then add the chicken. 
Sir fry all these ingredients together and then add the sauces and stock powder. Check seasoning and adjust to personal taste.
Add the noodles to the vegetable and chicken dish and stir fry for 2 minutes. Remove from the heat.
Arrange on a platter, top with herbs, spring onions and cashew nuts. Serve and enjoy.