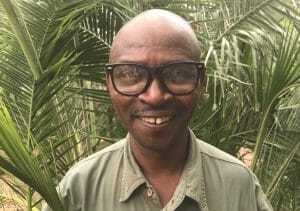 It's clear from his name that Doctor Mbhanyisi's parents may have had other plans for their son when he was christened. However, this experienced game ranger succumbed to a love of the bush at a young age and thankfully for us and our guests, ended up at Monwana Lodge instead.
Early Life
Doctor Mbhanyisi was born in Utah, a small rural community close to the Northern Sabi Sand. 
Utah is the site of a community vegetable garden sponsored by lodges in the area. This garden provides much of the fresh produce you will enjoy during your South African safari at Thornybush, providing income for some of the local population.
He still lives in Utah with his wife and family of 5 children.
​
Setting Out
​
Growing up close to the game lodges in the area, Doctor developed a love for the bush and all its creatures at a young age. When it came time to start a career, game ranging was his first choice – offering the excitement and novelty he craved as well as a chance to spend time in the bush.
His first job was as a tracker at nearby Simbambili Lodge where he worked for seven years. During his time there, he occupied himself with self-study and qualified as a game ranger before accepting a position at Monwana during 2017.
Doctor enjoys the new discoveries he makes every day and takes particular pleasure in researching anything new that guests ask him.
Animal Adventures
The resident wildlife has done their fair share to teach Doctor a few lessons. His curiosity has led him into a couple of hair-raising close encounters with dangerous animals and he has been charged by lions 4 memorable times. Two of these were close calls.
His favourite animal is the baboon and he says he can watch their complex social interactions and hilarious antics all day.
Down Time
On the rare occasions that Doctor does leave his second home at Monwana, he enjoys spending time with his friends watching soccer and socialising over a couple of beers. He enjoys a game of soccer himself and is an avid wildlife photographer.
If you would like to share the fruits of Doctor Mbhanyisi's thirst for knowledge, make a booking at Monwana Lodge. His thirst for knowledge and love of the bush makes for unforgettable game drives during your South African safari with Thornybush Collection.