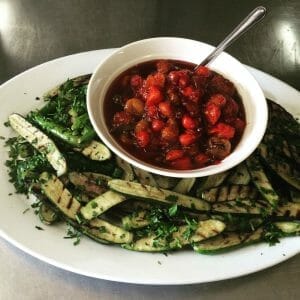 Exclusive game lodges are well known for their delicious meals, despite the sometimes limited resources available to them, and Thornybush Lodge is no exception – thanks to our head chef Solly Mangena.
With our rich cultural heritage, when preparing South African cuisine you can happily get away with borrowing a pinch of this and a touch of that from various other countries – such as India, Malaysia, Europe and the rest of Africa. The spicy undertones which are so popular in traditional Indian food are a particular favourite of Chef Solly.
If you would like to orchestrate a reminiscent return to the boma braais or lingering lunches enjoyed at one of our lodges, try out this simple recipe as a gentle reminder when you return home.
Grilled zucchini salad with sun-dried tomato compote
This deliciously fresh salad is one of these culturally rich dishes – using simple ingredients brought to life with just enough heat to add interest.
Ingredients:
zucchini (baby marrows) – sliced lengthwise

1 red onion

1 cup red wine vinegar

cherry tomatoes

sun-dried cherry tomatoes

olive oil

1 cup white sugar

salt and pepper to season

a selection of fresh herbs, star anise and bay leaves – all elements that you will find in Indian, Thai and even Nigerian cooking
Method:
Slice the zucchini (baby marrow) lengthwise and marinated for 30 minutes in a concoction of extra virgin olive oil and fresh herbs, with a sprinkling of salt and pepper.
Next, fire up your griddle pan, sear some stripes onto those zucchinis and set them aside to cool.
Sauté your thinly sliced red onion over a low heat until soft, add the red wine vinegar and sugar and simmer until the onions are caramelised and golden. Throw in some star anise, bay leaves, whole cherry tomatoes and sundried cherry tomatoes and cook until softened.
All that remains now is to arrange the zucchini on a serving platter, add a sprinkling of the fresh herbs and pour the tomato mixture into a serving bowl or spoon it over the vegetables.
Star anise – A side note
This spice features prominently in Chinese cuisine and is one of the five ingredients in traditional Chinese five-spice powder. This attractive spice is shaped like an 8-pointed star, bears seeds with an aniseed taste, and was used in traditional medicine to promote good digestion. Star anise was introduced into Europe in the 17th century and travelled to Africa with the Europeans and Indian immigrants who immigrated here shortly afterwards.
If you give this recipe a try, take a picture and share with us on Facebook or Instagram!