Saseka Luxury Tented Camp –
Emphasis on the "Luxury" and less emphasis on the "Tented"
Put simply, Thornybush is absolutely beautiful. I was lucky enough to spend 4 spectacular nights in Saseka luxury tented camp before having to move to the UK for work. If you have also been so lucky to have spent any time at Seseka, you would un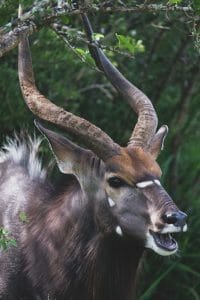 derstand my emphasis on "Luxury" and less so on "Tented".
Firstly, think more marquee than a tent; the rooms are large, open, and incredibly spacious. In fact, it's more like a villa than a room. Secondly, the layout, design, and attention to detail are truly impressive, from the custom furniture and fittings to the room spacing and amenities. As someone with a love of design and beautiful spaces, I was in awe of the thought and time put into each and every detail. The same goes for the main reception area, the design and feel is unique, which is hard to find in the world of wildlife lodges, and yet that same feeling of being in the African bush floods you from the second you step out of your airport transfer. To not mention the food would be a crime on my part, I have never eaten so much in my life! My parents actually contemplated trying to convince the chef to move in with us, but we decided that based on the fact that we couldn't resist a single meal he put in front of us that that probably wasn't a good idea for our waistlines. From fresh, homemade tagliatelle to impala, and kudu dishes and homemade, decadent desserts that I have never even heard of, the food was utterly indulgent.
The Wildlife Experience
What is a wildlife lodge review without a review of the wildlife experience? I have been around the bush, so to say, pretty much everywhere from the coastal reserves of South Africa to the Serengeti and Maasai Mara in Tanzania and Kenya. The Thornybush reserve is truly world-class and unlike many other locations, you get a feel of privacy and solitude on a game drive in Thornybush with other game vehicle sightings as rare as a pangolin in the North Pole. The bush itself was lush, dense, and full of life. lion and elephant sightings were as common as hadeda's in Joburg. The birdlife was phenomenal and "uncommon residents" were showing face frequently. We saw everything from porcupines and tortoises to feeding leopards and tree shaking elephants and all within 3 days.
Hospitality At Its Best
Lastly and most importantly, the hospitality team at Saseka is as world-class as the lodge and wildlife. Our guide Grant and tracker Moses were phenomenal in their knowledge and prowess. Pride our personal butler, as he introduced himself, was an absolute joy to be around and always managed to have us in fits with his wit and delightful sense of humour. The rest of the team, from the administrative staff, lodge managers and cleaning staff were welcoming, professional and went out of their way to make our time at Saseka unforgettable.
I don't normally write reviews for places I have been and, while I have been to many memorable places, I felt that Thornybush and Saseka Tented Camp, in particular, deserved a review not because my time there was memorable, but because it was unforgettable.