Skattie Mathebula – Housekeeper at River Lodge
What's in a name? The word 'skat' means treasure in Afrikaans, and it's a fitting moniker for River Lodge's, Skattie Mathebula.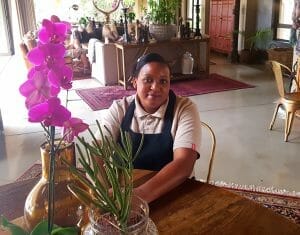 You'll know when Skattie's been in the house. She influences all spaces as she whizzes from room to room, brandishing her magical feather duster, spreading fairy dust and delight wherever she goes.
Skattie has the magician's touch when it comes to coaxing new life into our main communal areas at River Lodge as part of her duties as a housekeeper. It's thanks to her that the disarray of last night's dinner has done a disappearing act by the time you arrive for breakfast.
Green Fingers
Skattie Mathebula has an affinity for the orchids that are so admired by our guests at River Lodge. Whenever one of them looks a little off-colour, she takes it home with her and nurses it back to health. When this happens, we know that these pampered blooms will return from their sabbatical looking better than ever before.
If she's not making magic behind the scenes or rescuing plants in need of TLC, you'll find Skattie dabbling in the art of pastry-making in our kitchens, while giving full voice to her gospel repertoire.
A History of Excellence
As the daughter of one of our staff members, Mama Christina, Skattie has the love of the hospitality industry running through her veins. She grew up in Cottondale with her mother, two brothers and a sister and completed her schooling at the local high school.
From the first possible moment, Skattie was a member of the church choir and shares her love for this musical genre at every opportunity. Her wonderful vocal renderings are put to good use in our River Lodge choir during boma evenings.
Mama Christina has been with Thornybush for many years working as a chef and later in housekeeping. During a pinch, she volunteered Skattie's services as a casual housekeeper from time to time, but we just couldn't get enough of this young lady's vibrant personality and she's now employed full time.
With Mama Christina by her side, Skattie has quickly learned the ropes and is an important part of the team at River Lodge. Her brand of magic brings that extra sparkle to our honeymoon turn downs.
Skattie Mathebula is a walking testament to the fact that if you do what you love, you'll enjoy every minute and excel every day. Skattie's favourite thing to do is "spring clean" (say no more).
We consider ourselves very fortunate to have such a dedicated housekeeper as part of the crew at River Lodge.
Get in touch to book your spot at Thornybush's River Lodge and experience the magic of a South African safari for yourself.