The following traveller story was provided by Andre Van Kets of Discover Africa Safaris. Andre and his wife stayed at Thornybush Game Lodge in September 2021. This is their first-hand account.
For years, Thornybush Game Reserve has been on my safari wish list.
After a long Cape Town winter, with little travel under the belt, my wife and I decided to leave our two toddler girls with their grandparents and book a few nights at Thornybush Game Lodge for a child-free romantic safari holiday.
Getting to Thornybush Game Reserve

Airlink flew us from Cape Town to Hoedspruit. A two-hour flight followed by a 45-minute drive to the property. East Gate Transfers & Safaris takes you past the Thornybush Game Reserve gate for the second leg of the journey.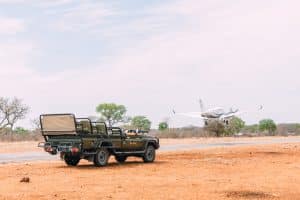 Before we had checked in, we were greeted by elephants, giraffes, zebras, and warthogs. 
You can also drive from OR Tambo International Airport in Johannesburg (about 6-hours) or transfer via small planes or helicopters which land at the Thornybush airstrip, which is only 2 minutes from the lodge.
Rooms at Thornybush Game Lodge
We stayed in one of the 18 standard suites at the lodge. Warm, spacious, and pleasantly cool. The safari theme was completed by a massive king-size bed wrapped in an even larger mosquito net.
With glass sliding doors that lead onto a raised wooden balcony, the room has all the anticipated conveniences such as a minibar, safe, dryer, writing table, couch, and so on.
From our balcony, we could see elephants, giraffes, bucks, monkeys, and birds during the day. We also heard a scops owl, a chuckling band of hyenas, and lions roaring in the distance late at night.
The bathroom was perhaps the suite's most impressive feature: a double vanity, a spacious bath, both an indoor and outdoor shower, and stunning floor-to-ceiling windows overlooking a vast dry riverbed where you can see large and tiny animals pass by. 
There are two family suites at the resort, each with its own plunge pool.
Communal Areas at Thornybush Game Lodge
Thornybush Game Lodge provides the sense of a classic safari lodge, with a big elevated open wooden deck, a stilted thatch roof, and trees bursting through the platform to provide additional shade.
There's a quiet, colonial vibe going on here, with a few modern accents thrown in for good measure. The dining room, numerous open-air sitting areas, two fireplaces, the bar, and a swimming pool with sunbeds are all located on or just off the main big deck.
A curio shop and library flank the outdoor reception lounge. A stunning spa is also available at the property for guests to enjoy.
Dining & Meals offered at Thornybush Game Lodge
Thornybush meals were wholesome, fresh, varied (some a la carte, some buffet), plentiful and most importantly: we were offered generous times to eat. During our 3-days at the lodge, we never felt rushed to get to a meal.
The wine list also had some of our favourites (Tokara, Springfield) and was reasonably priced.
Service offered at Thornybush Game Lodge
At Thornybush Game Lodge, the staff struck the balance just right by making us feel special while allowing us to relax and simply be ourselves.
The reception staff, waiters, servers, butlers, cooks, barmen and housekeepers were warm, welcoming, polite and jovial. 
After a tough 18-months of lockdown, travel restrictions and operational challenges, the Thornybush staff expressed their gratitude that we were staying with them.
They were excited to be running at full capacity once again. 
Wildlife at Thornybush Game Reserve

After learning that Thornybush Game Reserve had dropped its fences to the rest of the Greater Kruger Park area in 2017, we had high hopes of seeing a lot of wildlife.
Our expectations were met and exceeded, with the Big Five being spotted on our first two game drives.

The following are some of the highlights from our Big Five Kruger safari:
A playful

pride of lions

with nine adorable cubs ranging in age from two to five months;

A huge

male leopard

stalking an

impala

;

Two

white rhino

"crashes" (yep, it is their collective nouns);

Several herds of really calm

elephants

, allowing us to get up close and personal;

A large herd of

Cape buffalo

with a few calves, one of which was an albino. Very unusual to see.
Game Drives at Thornybush Game Reserve 
Thornybush Game Lodge, like most safari lodges, provides two safari activities per day at a fully inclusive fee. 
Our Kruger Park game drives were conducted in their 9-seater safari vehicles, with one departing at dawn and the other departing at 3.30 p.m., for a total of 3-4 hours.
We had a maximum of three couples in our van. As a result, each pair got their own row, which was far more pleasant than sitting shoulder to shoulder, which sometimes detracts from the game driving experience. 
Over the course of our three days, we went on five game drives, sleeping in one of the mornings.
Guides at Thornybush Game Lodge
The guides at Thornybush are trained to take tourists on walking safaris. On our second morning, we went for a bushwalk. On foot, we came across elephants and nyala, investigated an old giraffe skeleton, and learned about local trees, flora, animal spoor, and tracking.
Ranger Tracy and tracker John were our safari guides for all three days on safari. They looked after us from start to finish, pointing out wildlife, birds, and plants while patiently and enthusiastically answering our inquiries. Their extensive expertise and genuine enthusiasm for the outdoors were evident and felt 100% genuine to us.
Covid Procedures at Thornybush Game Reserve
Before arriving at Thornybush, you must complete a quick and easy online Covid health screening questionnaire.

At check-in, you'll be asked to take your temperature and answer a few health-related questions. Throughout the facility, there are sanitiser stations.

Staff were quite conscientious about wearing masks correctly at all times.

All activities and meals are held outside, and upon arrival, our rooms were marked with a "clean seal" label across the doors. Although we couldn't be certain, it appeared that our room had been well-ventilated before our arrival.

During our stay, I learned that in the coming weeks, Thornybush was planning to offer on-site vaccines for all personnel across the entire reserve (including neighbouring lodges). I was overjoyed to learn that guests, lodge personnel, and their families would soon benefit from an additional layer of personal health protection.
Insider Tips when travelling to Thornybush Game Reserve

Thornybush Game Lodge is family-friendly. During our stay, we met a family with grandparents, parents and grandchildren all on safari together. It was lovely to see young children out on safari learning about the wild with happy parents and grandparents.




(If you're after a more intimate, romantic safari without kids being kids around the lodge, then check-out Thornybush's sister lodge

Saseka Tented Camp

which is slightly more up-market and usually does not have families with young children)

Although afternoon game drives do typically drive through the dark for the last hour or so, Thornybush Game Reserve does allow "proper" night drives. You do need to request in advance and then you could experience some of the magic that happens after dark in the bush. This is something I've done in Kenya and which I'd love to do in the Kruger region next time.

You can do a yoga class with an instructor (also request this in advance).

And lastly, if it's your birthday or a special occasion, don't be surprised if you get a special treat or experience from the wonderful team looking after you at Thornybush Game Lodge.
Overall, we enjoyed a 10 out of 10 Kruger safari experience at Thornybush Game Lodge.
Images provided by Thornybush.